Top 5 Reasons to Grab Your Early Bird ISM Tickets
This year's 12th Annual Internal Study Mission (ISM) centers around Sacramento's Recovery and Resiliency.
Over the past year, our connected communities have been severely affected by the chaos of the global pandemic. Despite this, they are resilient and committed to creating innovative solutions to support each other and reach economic recovery.
Attending this year's virtual ISM is a great opportunity for all professionals.
Here are 5 reasons why you should register and get your early bird tickets now!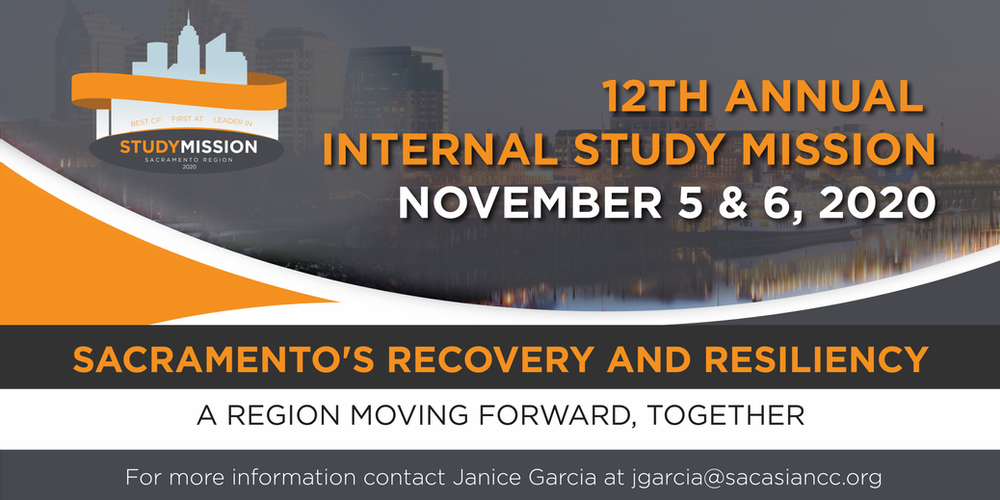 1. Sacramento's Unparalleled Leadership
The Internal Study Mission provides you with the opportunity to connect with amazing leaders who are actively involved with our government and our communities. Our speakers will discuss the challenges they faced during the pandemic and the methods they are using to recover from the damage.
2. A New Kind of Networking
ISM brings together diverse professionals all over the Sacramento region. It creates an opportunity for emerging leaders to connect with multiple organizations and learn about the state of the region and the communities they serve. Join us for virtual networking and get to know the leaders in our community!
3. Our Region's "Indomitable" Community
The strength of Sacramento's communities in times of crisis is astounding. This is a great time to get inspired and motivated by their united resilience and commitment to support each other. This is also a fantastic way for you to learn more and get involved in your communities to make a difference.
4. Driving Towards Equitable Recovery Together
Small businesses have been affected the most by this pandemic. This is why a portion of your ticket fees will go toward helping local small businesses! The rest of our region has not stopped creating solutions towards an equitable recovery either. Hand-in-hand with our communities, the small businesses of Sacramento region are committed to persevere, endure, and overcome the crisis presented by this pandemic.
5. The Future of our Inspirational Communities
Above all, ISM is an opportunity for you to hold hope for the future. Learn from the strength of Sacramento leaders to create your own innovative solutions. Get involved with our amazing communities, because you are a member of the future, and you can become a leader of great change and hope.
On November 5 & 6, 2020, the Sacramento Asian Chamber of Commerce is holding its 12th Annual Internal Study Mission.
Early bird ticket prices will only last until this Friday, October 16 so don't wait! Reserve your spot now!