Japantown: A Historic Community Once Lost, But Still Alive
In celebration of #AAPIHeritageMonth, we're taking a look back at the evolution of Sacramento's historic API business districts.
Sacramento once housed the fourth largest and most vibrant Japantown community among the West Coast, rivaling those of San Francisco, San Jose, and Los Angeles. But now, reduced in size and number, only the memory of its former glory remains.
Circa 1880-1940, Japanese Americans expanded their small community into a thriving cultural center filled with businesses and entertainment alike. Unfortunately, after World War II, this community was never the same again. It was forced to start anew twice – once due to internment, and again due to urban redevelopment. Japantown was uprooted from its original placement and relocated to another, much smaller area.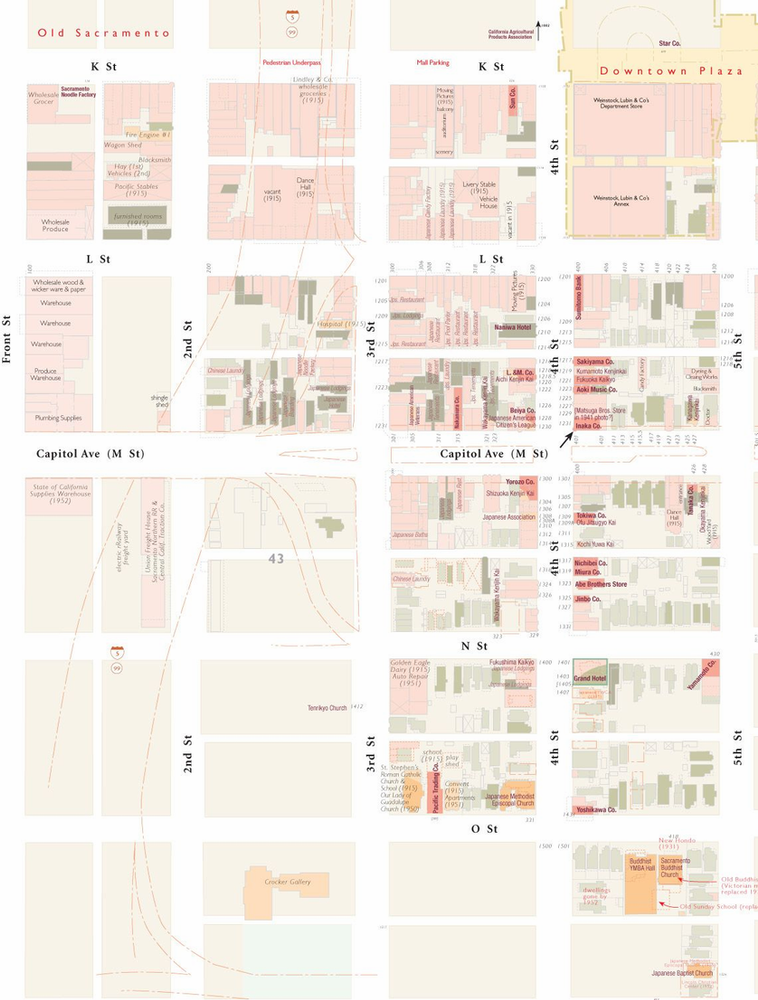 The lost Japantown once covered the areas between 3rd and 5th, and L and O Streets. It was a bustling place with hundreds of businesses ranging from markets, banks, and restaurants, to bathhouses, sumo wrestling platforms, and Kabuki theaters. After forced internment during World War II, the area became a ghost town. When the innocent Japanese American citizens returned, the community slowly came alive again.
Unfortunately, anti-Japanese sentiments were too strong after World War II. In 1957, the Sacramento City Council allowed Japantown to be bulldozed and redeveloped into what is today's Capitol Mall. By 1960, Japantown was physically erased from Sacramento, and their former residents scattered and dispersed.
The majority of Japanese Americans were restricted from buying properties or opening businesses in popular areas. As residents moved to the suburbs, so did their businesses, and the establishment of a new Japantown arose, relocated along 10th Street, between T and W Streets.
The old Japantown might only exist as a memory in the 2018 California Museum Exhibit: "Kokoro: The Story of Sacramento's Lost Japantown", but the new Japantown is still alive and buzzing with energy. The streets are quietly busy as new shops work to transform the area into a revitalized community. Many proud Japanese Americans have taken it upon themselves to rejuvenate the lifeblood of Japantown, and hope to expand both knowledge and new opportunities for the Sacramento community.
Come visit some of Japantown's thriving businesses below today!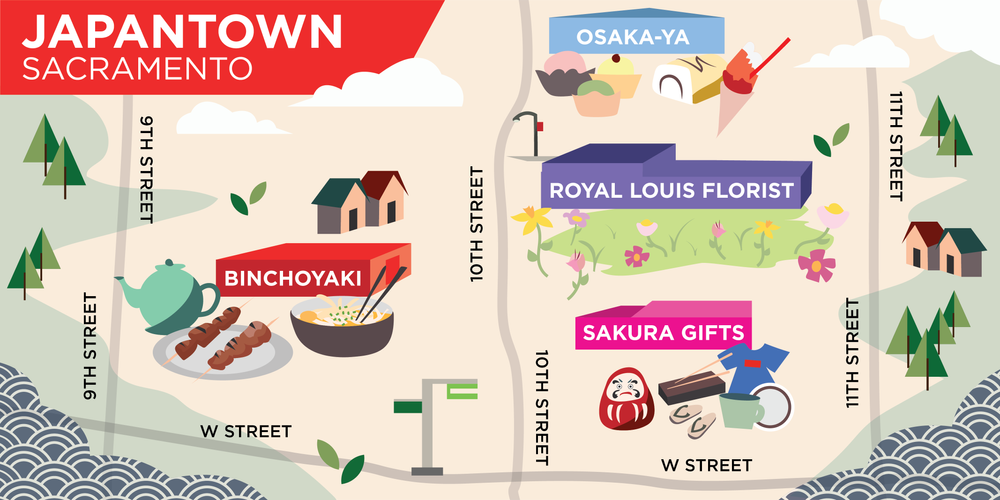 Binchoyaki Izakaya Dining
Binchoyaki is a fairly new Japantown establishment, but have quickly made themselves a part of Sacramento's culture. They bring the lost flavor of Japanese soul food to Sacramento through their Izakaya-styled dining— very social and atmospheric dine-in environment served up with a rich variety of Japanese cuisine beyond sushi and teriyaki. The owners have said, "We want to be a focal point in revitalizing this area. It really needs new businesses here and we've found a great location."
Osaka-ya
One of the remnants of old Japantown, this shop is popular for its homemade Japanese confections, such as mochi, manju, and snow cones. Even residents from Los Angeles will drive up to acquire the flavor found only in Sacramento. On Saturdays, they provide hot food items from Japanese cuisine, including popular bento boxes, deep fried tofu, and grilled fish.
Royal Louis Florists
Royal Louis Florists relocated from 4th Street Japantown to 10th Street Japantown around 1958, and has changed hands several times. The current owner, Lynda Tanaka, renamed the shop in partial tribute to her former Sacramento business. The shop is well known for their funeral floral arrangements and have a calligrapher available to decorate bouquet ribbons.
Sakura Gifts
Sakura Gifts was established in 1971, replacing a relocated Japanese grocery store on 10th Street. The current owner, Nobuko Pang is a Tokyo native and has made Sakura Gifts into a unique gift shop that provides countless Japanese items including tea sets, dolls, food boxes, festival clothing, and rental book service.