Little Saigon: Empowered Community Achieves Official City Recognition
In celebration of #AAPIHeritageMonth, we're taking a look back at the evolution of Sacramento's historic API business districts. Make sure to read our story on Sacramento's Japantown if you haven't already!
From circa 1975 to 2000, refugees fled from war-torn Southeast Asia. The Fall of Saigon in 1975 may have ended the Vietnam-American War, but it left many Southeast Asian citizens permanently displaced. Choosing to pursue freedom, they sailed into the unknown, uncertain if they would survive. For the sake of their families, they could never look back.
Sacramento is among one of the areas that refugees chose to settle in. At the time, housing and cost of living prices were very affordable to the incoming families. However, their struggles were far from over as the Stockton Boulevard area had few open businesses and a reputation for being abandoned and susceptible to crime.
April 4, 1991 was a turning point for the community — 4 Asian American youths held 41 people hostage, demanding bulletproof vests and passage to Thailand to fight against communism. 3 hostages were killed, and 8 were wounded. 3 of the perpetrators were killed, and the 1 surviving youth went to jail. This event was particularly shocking for the immigrant communities who had fled their country to escape from war.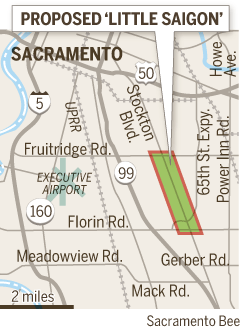 It also promoted a wave of positive changes and a community-wide determination to provide assistance for struggling citizens. Non-profit mental health groups and counseling groups were formed to address specific needs. The most impressive changes came from business owners who wanted to give back to their community, and a long-term collaboration with Sacramento City's Housing and Redevelopment Agency and Stockton Boulevard Partnership around the 2000s.
The year 2009 was a major turning point for the burgeoning community – it was the birth of the Little Saigon Committee. The committee was comprised of 9 local members, chosen to lead and make progress for revitalization. It was an opportunity for the new Vietnamese American generation to connect to their community and solidify their own cultural identifies. The Little Saigon Committee wanted to create a new identity for the region and gain public recognition of the Vietnamese community in Sacramento.
The committee was aided by Sacramento City Councilman Kevin McCarty and then Sacramento County District Supervisor Jimmie R. Yee. Together, they and many others revitalized the area into a thriving space for residents and businesses, and within one year, accomplished their goal. Assemblymember Kevin McCarty recalls this moment in his career with great fondness:
During my time on the City Council, I was honored to lead the effort to create Sacramento's first cultural designation 'Little Saigon' alongside the Vietnamese American community symbolizing the City's rich culture . . . We worked diligently with the business community, other city council members and City staff to ensure the recognition of the vibrant, thriving businesses along Stockton Boulevard that continue to contribute to our diverse City. This is one of the accomplishments I am most proud of and I am thrilled that this past February, we celebrated Little Saigon's 10th Anniversary.
In February 2010, the 2-mile stretch of Stockton Boulevard was officially and publicly designated as Little Saigon — the first neighborhood in the Sacramento area to receive such a distinction. This unanimous decision was a significant milestone for Sacramento, showing celebration and support for their local community. Stephanie Nguyen, Executive Director of Asian Resources, Inc., recounts the growth that the district had gone through leading up to this momentous occasion:
As someone who grew up in the Little Saigon District, I am amazed at the growth over the years. Little Saigon is thriving today because of our immigrant and refugee families who came here nearly 40 years ago and took a chance on this boulevard by investing in it. They saw the potential. They built a whole new community, resurrected Stockton Blvd, and made Little Saigon what it is today.
The significance of naming the community "Little Saigon" goes beyond just the name. It is a representation for the freedom and hope that was lost when South Vietnam's capital city Saigon fell to communist North Vietnam at the end of 1975. Choosing the name "Little Saigon" acknowledges and shows appreciation for the culture, values, and achievements that the Vietnamese community brings to Sacramento.
Little Saigon continues to be a cultural center of Sacramento's Southeast Asian community. The area is thriving with delicious cultural food, festive shopping centers, and prospering businesses. It is an area that locals are proud to be part of and a must-see destination spot for visitors to the area.
While the businesses below only reflect a handful of the ones in Little Saigon, we encourage you to support all of the thriving businesses there today!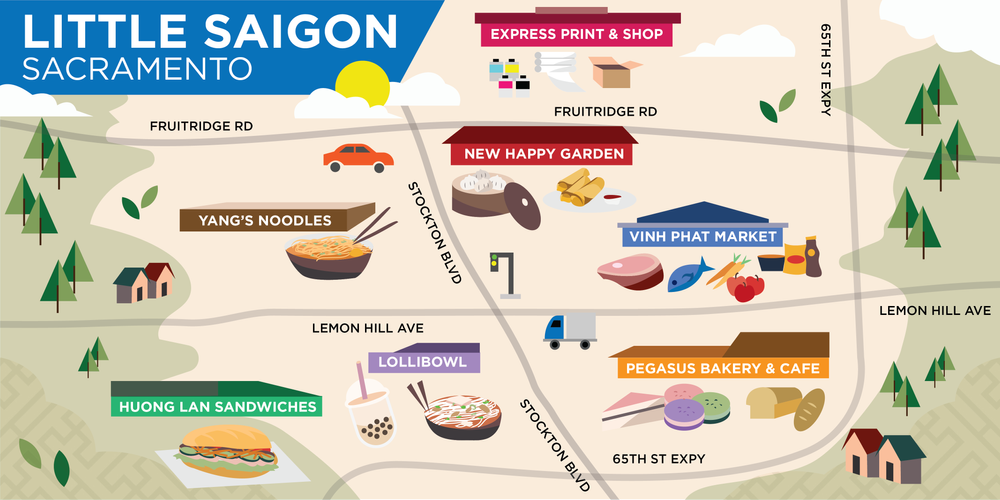 Happy Garden Seafood Restaurant
Happy Garden is a popular location for luncheons and dining parties. Their menu boasts of dim sum specialties, full entrees, hearty soups, and delicious desserts. The welcoming atmosphere makes it a great choice for celebrations, including weddings and other special occasions.
Pegasus Bakery & Cafe is the place to go when you have a craving for Asian baked goods! Their menu is fairly wide-ranged, carrying a blend of various deserts from many Asian countries. From mooncakes and milk teas, to sweet crepes and red bean buns, satisfy your cravings here!
Vinh Phat Market is a staple grocery store within Little Saigon. They sell fresh produce, meat, seafood, and canned goods at affordable prices. For many community members, Vinh Phat Market is their one-stop shop for weekly groceries.
Huong Lan is unmistakably a staple of Little Saigon. They are famed for their banh mi sandwiches, which stand out against the local competition, and their affordable menu makes it a "must-eat" destination. On any given day, this shop is busy and crowded, a testament to its popularity.
Yang's Noodles is the only restaurant in Sacramento that makes and serves hand-pulled noodles. They specialize in both northern Chinese and Taiwanese dishes, which makes its stand out from the crowd. The strong flavors of Yang's Noodles can quickly whet a hungry customer's appetite.
Lollibowl specializes in delicious pho. Their attachment to Lollicup offers their customers the option of ordering a range of boba drinks while they wait for their meal. This unique combination of two shops makes it a popular destination for a quick stop or a sit-down meal.
Express Print & Ship is a local one-stop printing shop. Their wide range of customizable templates give their customers the freedom to create and design their dream projects. In addition, their online platform is easy to use for ordering and shipping.