Get to Know Our New Board Chair: Michelle Picard, Siemens Mobility, Inc.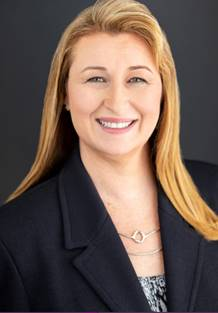 On March 11, 2021, we proudly introduced Michelle Picard of Siemens Mobility, Inc. as the new Chair of the Sacramento Asian Pacific Chamber of Commerce Board of Directors! Michelle has worked over two decades in the transportation industry, currently serving as Director of Business Governance and Risk Management and DBE Liaison Officer for Siemens Mobility's North American Rolling Stock headquarters in Sacramento.
Michelle has served on our chamber board for the past four years and has been a consistent advocate for diverse small businesses in the Sacramento region and beyond. We had the chance to connect with Michelle to get her impressions on being installed as Borad Chair and to learn more about what serving on the chamber boards means to her.
We're excited to have you lead our board of directors! What are you most looking forward to accomplishing during your time as chair?
I've had the opportunity the last few years to serve on the Board of Directors and appreciate the opportunity to serve as Chair for the next two years. I'm looking forward to working with the Board and Chamber to share the mission and resources available to the community and local businesses.
How does the chamber's mission of ,strengthening and giving voice to Sacramento's diverse small business community, align with your work at Siemens Mobility, Inc.?
Siemens Mobility is a strong supporter of small businesses, both through its economic reach as an employer of more than 1500 people who support the small business network in the community, but also through its efforts to utilize small businesses in its broader supply chain – both for manufacturing as well as day to day operations. Importantly, as an essential business throughout the pandemic, Siemens Mobility was able to maintain a steady manufacturing presence – ensuring continuing economic activity for the surrounding small business community from its employees and operations.
What inspired you to join the SACC board?
I was drawn to an organization that expresses interest in and works diligently toward growing small businesses of diverse backgrounds and providing technical assistance in addition to providing future leaders an opportunity to learn skills that would be advantageous to their growth and benefit our community.
What is one word or phrase you'd use to describe the SACC?
Inclusive
What is something that has influenced you that you would like to share?
I had the opportunity at an early age to experience other cultures and that had a positive influence on wanting to learn about others. The parents of a high school exchange student from Japan that we hosted invited me to spend a few weeks with their family and a few years later I had the opportunity to visit some European countries and also attend university in France and teach conversational English to students 6th through 9th grade for a school year providing opportunities to experience other cultures.